"Deus Lux Mea Est"
God is My Light
University Motto
Dear Parents, Students, and Alumni,
We are pleased to offer a lasting reminder of your experience at The Catholic University of America: The official ring. Our ring evokes special memories of the traditions and images of Catholic University: meeting new friends, Mass in St. Vincent's and beautiful spring days on the Mall. The official ring is a symbolic, continuous link with University experiences, fellow classmates, and alumni.
If you are interested in purchasing a ring, please follow the link on the right side of this page. For additional information, contact The Office of Campus Activities at 202-319-6003 or email cua-activities@cua.edu.
Sincerely,
The Office of Campus Activities
The Catholic University of America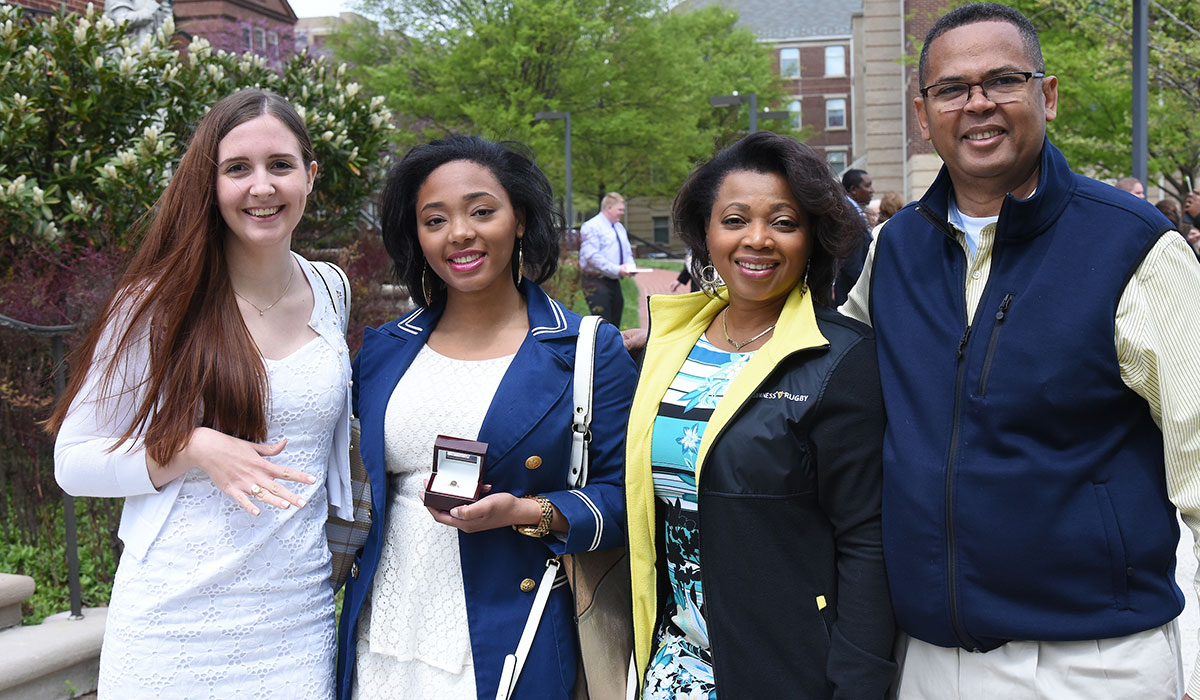 The Ring — A World of Meaning
Each ring symbolically captures the uniqueness of Catholic University. Custom crafted for Catholic U, the ring bears the university logo. The design of the University's coat of arms is directly related to the arms of the United States of America to declare the University's patriotism and national scope. The cross, indicative of the Catholic faith, is at the center of the coat of arms and resting on it is an open book that represents the University as an institution of learning. The motto on the book's pages, Deus Lux Mea Est (God is my light), points to the source of all truth and enlightenment. The crescent is the heraldic symbol of the Immaculate Conception of Mary, constituted by ecclesiastical authority as the Patroness of the United States of America.
Juniors and seniors wear the ring with the school name facing them. Upon the granting of degrees at commencement, graduates turn the ring around, with the name facing outward. This symbolizes that the graduate is now ready to face the world.
Students may select from 10K, 14K, or 18K yellow or white gold. The inside of the ring may be personalized by engraving the name or initials, up to 18 characters.
Balfour, the ring supplier, provides an interest-free monthly installment plan. Your purchase is protected by a lifetime warranty that also includes free resizing and refinishing. Balfour guarantees your satisfaction.